Pora na jedną z najciekawszych prywatnych kolekcji mody, Centralne Muzeum Włókiennictwa we współpracy z Adamem Leją prezentuje nam wystawę pod nazwą "Christian Dior i ikony paryskiej mody. Stroje z kolekcji Adama Leja". Adam Leja jako polski historyk sztuki, prowadzący od 1992 roku Galerię 32 w Warszawie , gdzie prezentuje sztukę dawną, art deco i projekty współczesnych twórców, wraz z CMWŁ umożliwia nam podróż po historii domu mody Dior. Kurator wystawy to –  Marta Kowalewska, kierownik działu tkaniny artystycznej, historyk sztuki i wykładowca akademicki. Niniejsza wystawa została podzielona na dwie części, pierwszą stanowią kreacje wyłącznie domu mody Dior, zaś druga to projekty czołowych paryskich projektantów ukazujące powojenne tendencje światowego krawiectwa. Odnajdziemy tam luksusowe krawiectwo "haute couture", od efektownych sukienek po nakrycia głowy czy biżuterię Christiana Diora z lat 70'tych. Wystawę otwierają projekty wprost z Avenue Montaigne w Paryżu gdzie niegdyś znajdowała się firma Christian Dior. W części pierwszej możemy odnaleźć między innymi przepiękne żakardowe tkaniny, kolekcje kapeluszy z lat 50/60-tych, kobiecy komplet z motywem florystycznym oraz wiele innych. Do projektów domu mody Christian Dior zostały wykorzystane złote manekiny jako wyróżniający je element na tle drugiej części wystawienniczej. Druga część ekspozycji ukazuje nam zdecydowanie szerszy konspekt projektom Diora, prezentując zarówno kreacje współczesnych Diorowi francuskich projektantów jak np Nina Ricci czy kontynuatorów rozpoznawalnego stylu tworzonego jeszcze przed II wojną światową. Dlatego też możemy na niej podziwiać między innymi ponadczasowy kostium Chanel czy sukienki domu mody  Lanvin. Będąc na wystawie warto wypatrywać projektów młodszego pokolenia mistrzów paryskiego haute couture jak Pierre Cardin czy Yves Saint Laurent. Wisienką na torcie wystawy stanowią przepiękne kompozycje kwiatowe od pracowni florystycznej PASSIFLORA.Całości wystawy towarzyszy interesująca sesja fotograficzna autorstwa Michała Radwańskiego.
Niniejsza wystawa znajduje się na najwyższych piętrze Centralnego Muzeum Włókiennictwa w Łodzi. Wystawę można odwiedzać do 26.08. 2018 roku. Z całą pewnością Paryż zawitał do Łodzi.
Time for the one of the most interesting private collection of fashion. The Central Museum of Textiles in connection with Adam Leja presents us exhibition called: ,,CHRISTIAN DIOR & the icons of Parisian fashion from the collection od Adam Leja".The museum of textiles is located in the Ludwik Geyer's White Factory in Łódź. A. Leja is an art historian, fashion collector and expert in decorative arts of the Art Déco. Also he manages Gallery 32 specialising in the art of the interwar period and contemporary projects. This collaboration offers very interesting journey through parisian fashion, we can admire 2 mainly part of this exhibition. The curator of this exhibition is Marta Kowalewska- head of the department of art fabrics in this museum, also art historian and the academic lecturer. In the first part we can see only designs from Christian Dior fashion house, beautiful jaquard cloths, hats from 50/60's, effective ensembles from 70's, jewellery and much more. The second part presents us leading parisian designers with postwar tendences in fashion and also contemporary desingners like Nina Ricci. Exposition contain classical design by Chanel or dresses by Lanvin fashion house. Owing to the fact that we can admire two part of the exhibition, we see wide spectrum of history of fashion. Using gold and black mannequins, the exhibition shows us clearly contrast between Dior's designs and other fashion designers. You will fall in love with houte couture on this exhibition. If you've got a plan to see this event, please pay attention for unique design by younger generation like Yves Saint Laurent or Pierre Cardin. The exhibition is avaiable to see from 24.04 to 26.08.2018.
Paris arrived to Łódź!
Chanel/Gripoix, brooch, 1950
Dior – details
Yves Saint Laurent
The House of Dior, porcelain tea cups (Collection of Paweł Bouvier)
Christian Dior hats – 50/60's
Olivier Guillemin
Thierry Mugler, 80s/90s
Decoration
---
Photo session by Michał Radwański/ pics from: www.michalradwanski.com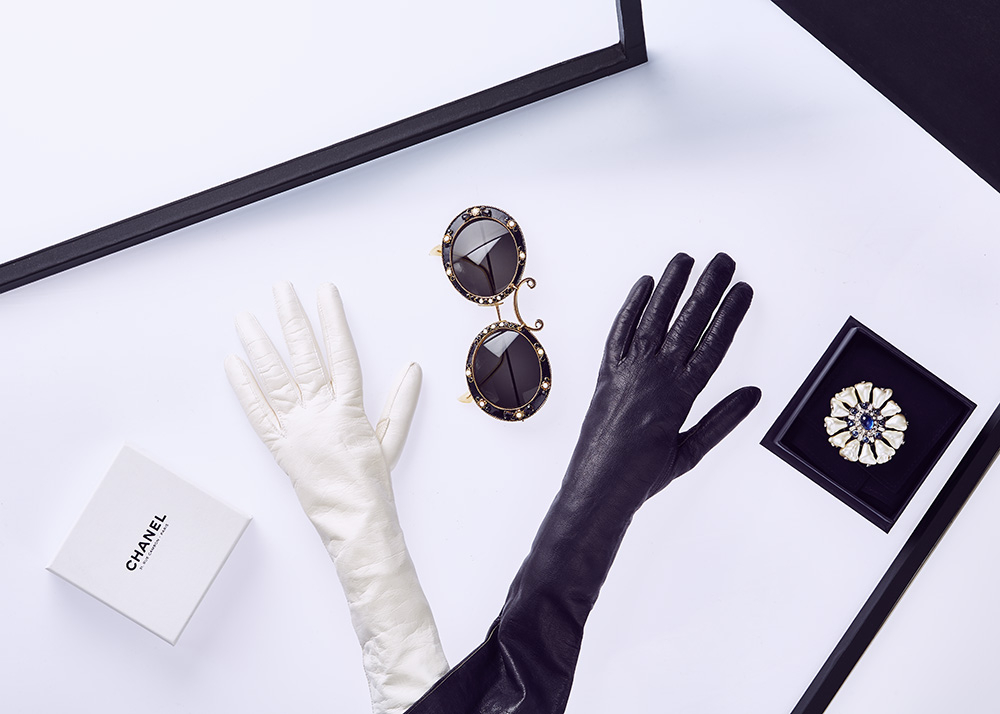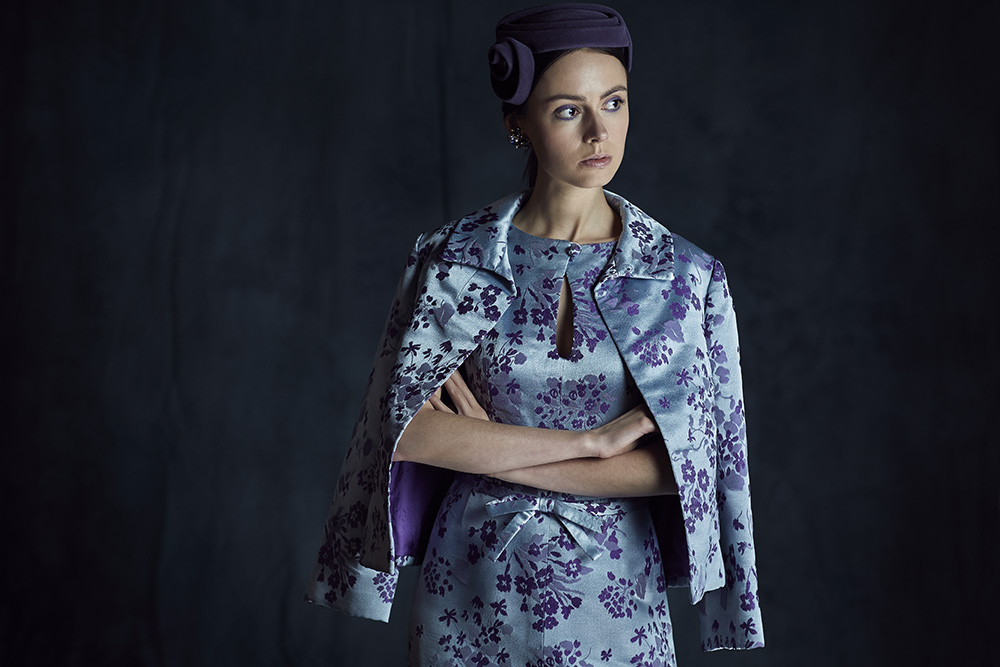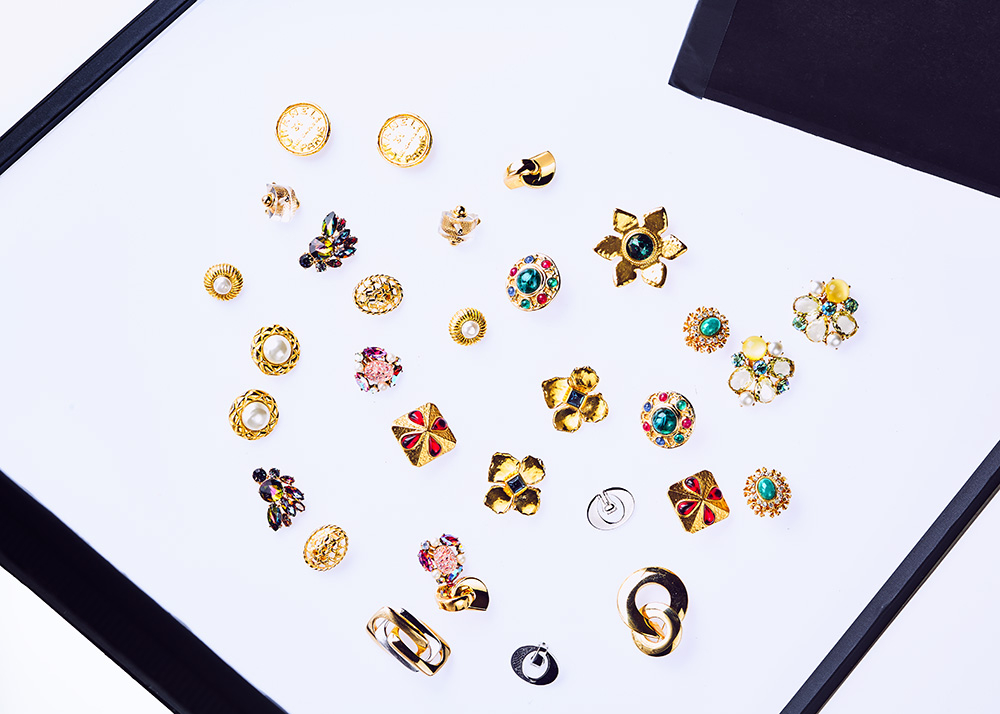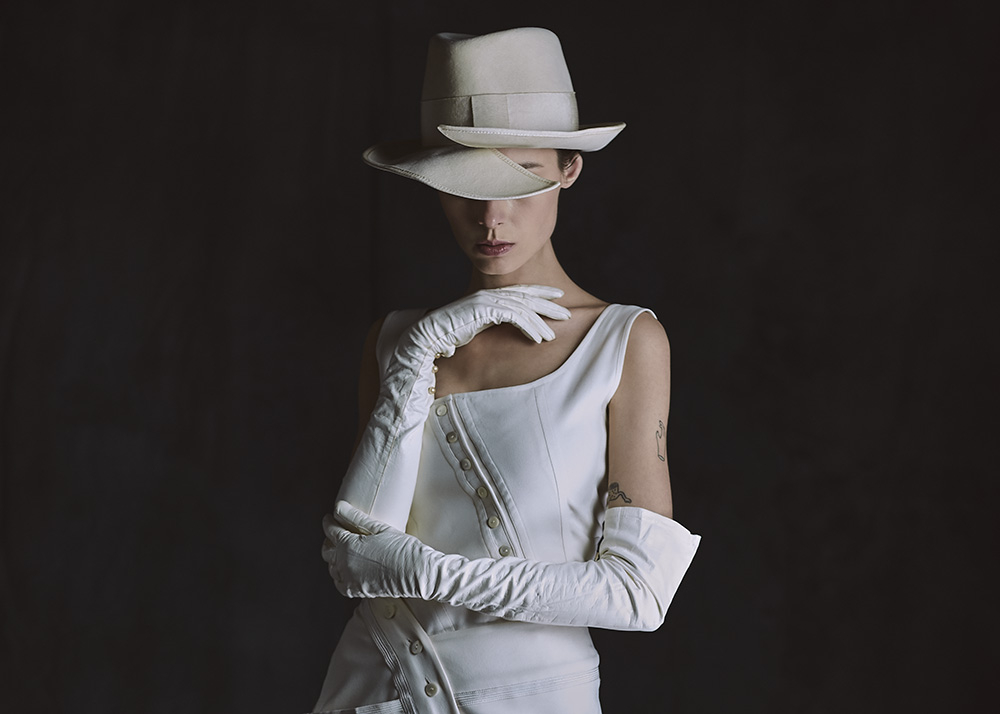 Photo: MICHAŁ RADWAŃSKI
Model: JOANNA GLINKOWSKA